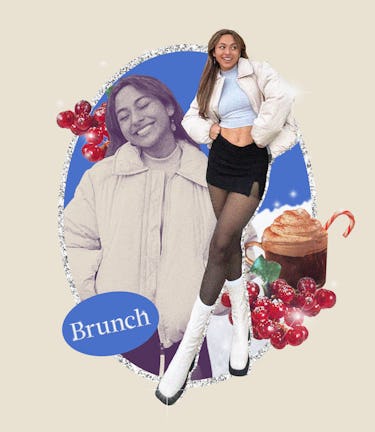 If you've ever found yourself wanting a pair of chunky loafers or searching for the perfect crop top and jeans combo, you've probably stumbled across Katherine Diermissen's TikTok page. The content creator, who loves to experiment with fashion, expertly translates trends you might see on social media into real-life styling tricks for her followers. "The most rewarding aspect of sharing my looks on TikTok is seeing people take inspiration from my outfits and make it their own," she says. "I love reading comments from users having trouble styling a certain item and being able to give them ideas to fit their own style!" For Diermissen, the holidays are the ultimate time to play around with new looks, which is why she turned to Urban Outfitters to find the chicest pieces for all her seasonal festivities.
Whether she's meeting up with friends for a festive brunch or walking around the neighborhood with family to check out holiday lights and decorations, Diermissen plays with layering and textures to create looks that are both cozy and unique. "My signature winter style is versatile and changes almost every day," she says. "Some days I'll dress simple and minimalistic, while other days I'll wear fun and chaotic patterns." But regardless of Diermissen's mood, she finds cool pieces to suit her vibe at Urban Outfitters — from a slouchy bomber jacket to sparkly tights, and more. Read on to see her go-to holiday looks and get inspired to incorporate some of her ideas into your own outfits.
Festive Brunch
When plans call for a midday holiday celebration with friends, Diermissen follows her own foolproof wardrobe plan. "Mock-neck tops and tights are staples when it comes to my cold-weather outfits," she says. To make her look feel especially merry and bright, she opts for sparkly tights and a mini skirt, keeping the rest of the ensemble simple to really let the style shine. "The light blue, gray, and white colors scream winter wonderland to me, and I love all the different textures from head to toe," Diermissen says. "I'll wear it to grab a hot peppermint mocha and pastry with friends, so we can catch up during our break from classes or work!"
Holiday Night Out
For Diermissen, there's no activity more festive than taking a walk through the neighborhood to check out holiday decorations. And to keep warm during the outdoor occasion — without sacrificing style — she opts for a chic layered look. "This outdoor activity really gets me in the holiday spirit and gives me the perfect excuse to layer up," she says. Diermissen starts out with a pair of flared jeans and a cropped turtleneck. Her favorite finishing touch? Add in an oversized leather jacket that ties the look all together. "Oversized jackets are my best friend during the winter months, as they're so comfortable to layer without feeling constricted under too much fabric," she says.
Holiday Shopping
Finding a personalized present for everyone on Diermissen's list requires plenty of time and planning, but one thing she never has to worry about is what she'll wear during her search. "I've learned over the years that comfort is key while holiday shopping! You definitely don't want to get tangled up in flowy pants and bulky jackets when searching for the perfect present," she says. Her style solution? High-waisted denim, an eye-catching sweater, and a fun vest to add interest (and warmth) to her look — while still keeping her arms free to browse. Sneakers are a must, too (according to Diermissen, "there are no better shoes to wear for long mall trips when you're walking for hours!").