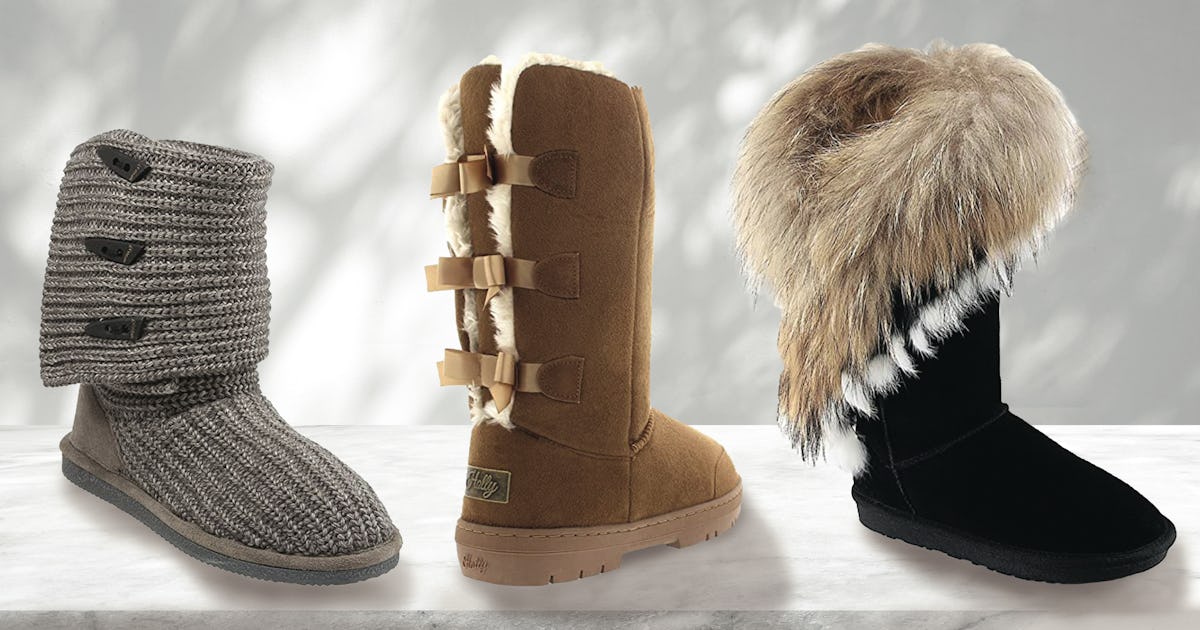 With their incredibly soft sheepskin lining and velvety suede uppers, UGGs are icons of comfort that epitomize laidback Australian style. But if you're looking for an alternative to UGGs, you're in good company: At about $170 a pop for a classic pair, they're a little steep for the average person who just wants a cozy pair of boots to comfort their feet — and that's to say nothing of the fact that many shoppers these days are seeking vegan footwear. The good news is that there are plenty of boots that channel all of UGG's cozy-chic aesthetic at a more budget-friendly price point — and yes, some are 100% vegan.
What To Consider When Shopping For Alternatives To UGGs
First, it's helpful to know what makes UGGs so covetable so you know how to spot a worthy alternative. UGGs are made from top-quality materials, like twin-face sheepskin suede for the upper that's treated to repel water and resist stains, and feature details like an extra panel on the heel to help them last forever. They have real sheepskin linings and insoles, with a proprietary rubberized foam sole for cushiony traction that feels light as air.
You can find good budget alternatives in suedes still made from sheepskin, and sometimes cow. Most UGG lookalikes are also lined in sheepskin, although some just come with a lined insole. There are plenty of vegan UGG alternatives, too, made with brushed faux suede and super soft imitation fur. Either way, you might have to choose between a rubber sole or one made from foam — but both are waterproof and afford good traction.
From a classic UGG-style boot to the iconic sweater boot and a fur-trimmed option you have to see to believe, these seven alternatives to UGGs are backed by rave reviews from Amazon shoppers.
1. The UGG Alternative With A Cult Following
With more than 9,000 glowing five-star Amazon reviews, these highly-rated Bearpaw boots are a nearly spot-on nod to the original UGGs. The brand's Emma short snow boot is made from sheepskin suede with stitched details on the seams and a soft shearling lining. The rubber sole offers good traction, too. The only thing you might miss is a stain-resistant treatment, but these well-made and sturdy boots will last years if cared for properly. Their tall boot is also highly rated.
Helpful review: "I'm a repeat Bear Paw buyer. These are as expected; nice quality suede and real fleece lined. I wear them bare footed for best fit and warmth. They're just as nice as Uggs without the Ugg price tag- you won't be disappointed with these booties."
Sizes: 6 – 12 | Colors: 19 | Material: Rubber, Suede, Sheepskin | Vegan: No
2. A Pair Of Cruelty-Free Boots That Look A Lot Like UGGs
This vegan alternative to UGGs is made from soft synthetic nubuck with a faux fur footbed for a similar iconic look and feel that doesn't rely on animal products. The warm footbeds are also cushioned to keep you comfy and cozy as you brave the elements. The 1-inch outsoles are made from durable EVA, which is both lightweight and shock absorbing. They don't skimp on tread, either — the outsoles are lugged to keep you from slipping no matter the terrain.
Helpful review: "Absolutely love these boots. They have worn even better than the UGGS I've had. I love so soft and warm they are. They feel very durable & keep my toes warmer than the rubber-toed winter boots. I love that I can wear these without the guilt of wearing animal products."
Sizes: 6 — 10 | Colors: 10 | Material: Rubber, Synthetic Nubuck, Faux Fur | Vegan: Yes
3. A Short Bootie Made Of Genuine Suede
These ankle-height booties are reminiscent of UGG's Classic Mini II Boot that are all over Instagram these days, albeit at less than half the price. The upper is genuine leather suede with a faux shearling lining complete stitching details on the seams. The rubber sole is thick and long-lasting, with anti-slip treading and bouncy memory foam insoles that comes pretty close to the comfort UGGs are known for.
Helpful review: "These are fantastic if you are looking for a pair of uggs but don't want to pay the price. As someone who has owned uggs all my life these are no different other then the ugg emblem isn't on the back. I am usually a size 6 but sized up 1/2 a size and I'm glad I did!"
Sizes: 5 — 12 (also available in wide) | Colors: 8 | Material: Rubber, Suede, Faux Shearling | Vegan: No
4. These Cute Faux-Suede Boots With Bows
If you've been pining for an alternative for the UGG Bailey bow boot, your ship just came in. This Holly boot has an imitation suede upper and is fully lined in thick faux fur. It features a nameplate on the heel, and a trio of satin bows running down the back of the calf that shoppers noted were remarkably cute and strong. Reviewers also wrote about how impressed they were by the thick lug sole on these boots, which offer incredible traction on slippery and uneven surfaces. You can also find this boot as an ankle boot.
Helpful review: "These are my favorite boots. They are warm and soft. Have not had any problems with leaks or my feet getting wet. And I have worn them on the beach. They are very cute and you can't tell they are not Ugg's unless you are looking for a logo. Amazing boots for the price."
Sizes: 5 — 12 | Colors: 6 | Material: Synthetic, Faux Suede, Faux Fur | Vegan: Yes
5. The Luxe Sheepskin Slippers Your Feet Deserve
The first time you slip these on, you'll wonder where they've been all your life. This version of the UGG house slipper is nearly identical — even down to the color selection. The 100% Australian shearling lining (similar to what UGG uses) is naturally breathable, moisture-wicking, and helps regulate body temperature, not to mention something to look forward to after a long day. The EVA foam sole is a durable touch to this luxurious slipper.
Helpful review: "I love these so much! So cute and cozy and great for if you want the Ugg look without the Ugg price. I literally wear them all day every day because I work from home and they have held up really well!"
Sizes: 6 — 11 (also available in wide) | Colors: 15 | Material: EVA, Suede, Shearling | Vegan: No
6. A Pair Of Cozy-Chic Sweater Boots
This alternative to the UGG Cardy boot riffs on the same sweater-knit upper with an adjustable calf height and arrowhead buttons. (The UGG Cardy boot's toggles are round.) It's not fully lined in shearling, owing to the sweater material, but you do get to sink your toes into plush sheepskin insoles. The rubber sole is sturdy and lightly gridded for traction.
Helpful review: "These are absolutely wonderful. Live in Wisconsin and can wear them outside without my feet getting wet from snow. I was in the market for boots like these and didn't want to spend to money on UGG brand. These are just as good."
Sizes: 5 — 12 | Colors: 4 | Material: Rubber, Wool, Acrylic, Sheepskin | Vegan: No
7. These Leather Boots With A Dramatic Fur Trim
These high-drama UGG alternatives pair laidback Aussie style with some serious glamour. The cow suede leather boot is topped with the fluffiest fur cuff you'll ever see, made from rabbit and raccoon fur. Because of this, some reviewers suggest sizing up for a looser fit, especially if you plan to pair these with thick socks. They're lined with synthetic sherpa and have a thick rubber sole with snowflake-stamped traction — useful and cute!
Helpful review: "I love my boots! Would like to buy the brown pair soon.. I only wear Uggs! But surprisingly these boots are just as warm and comfy"
Sizes: 6 — 10 | Colors: 2 | Material: Rubber, Suede, Fur | Vegan: No
This article was originally published on