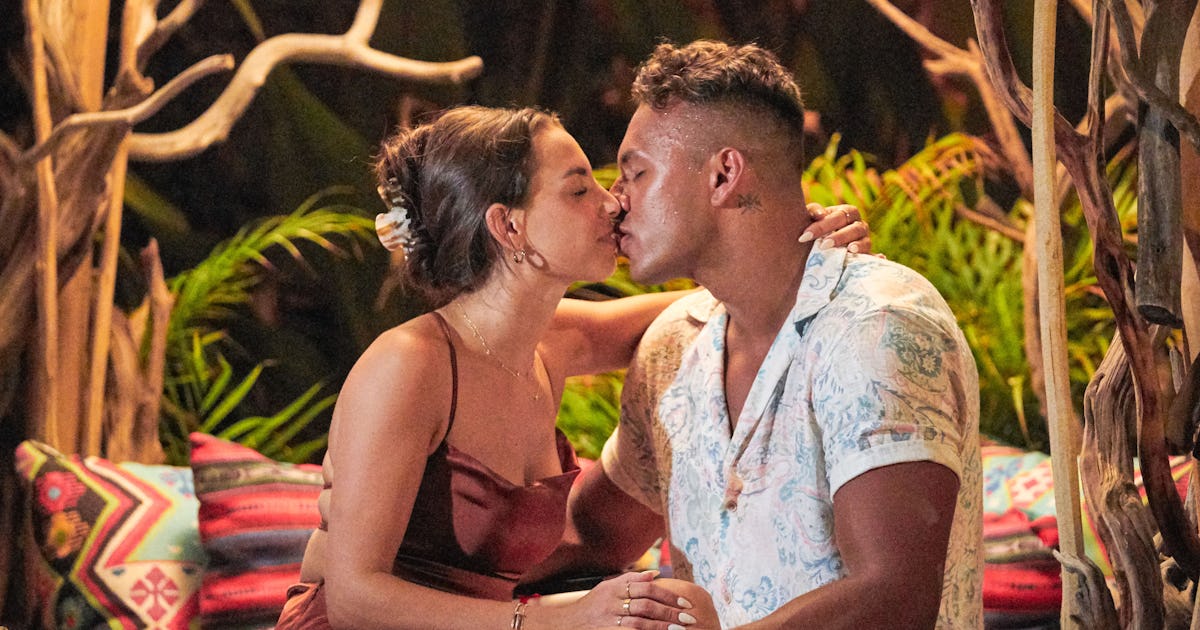 We're officially at the end of Genevieve Parisi and Aaron Clancy's Bachelor in Paradise Season 8 journey — and they have gone through it. Technically, the drama surrounding them started before there were in a relationship; remember when Shanae Ankney claimed the pair hooked up after The Bachelor?
To recap: as both Genevieve and Aaron clarified, that didn't actually happen until they hit the beach, but ever since they got together, their relationship alternated between sweet moments (their reunion after the cast twist!) and several fights that nearly ended with a breakup.
After one such fight, Genevieve told Aaron she loved him, and he reciprocated — much to the delight of their fellow beach dwellers. "If they can fight that much and make up, they may be made for each other," Victoria Fuller said once it was clear that Genevieve would be staying put. "Because that sh*t is crazy." Michael Allio agreed. "I feel pretty confident that they could have a really good life outside of all this," he said.
So, were they right about Genevieve and Aaron's relationship surviving after Bachelor in Paradise?
Alas, no. During the show's Nov. 21 episode — the first of a two-part finale — they made it through their last rose ceremony together but ultimately did not leave the beach together, engaged or otherwise. "Whenever there is something wrong, you've wanted to leave, you know, and you've packed your bag and you've been on the road," Aaron said. "And that's scary for me."
He expressed his desire for someone who would "give [him] security," even during the tough times. "If I'm willing to stick around, I need someone that's willing to stick around too," he added. "And like, for that reason, I don't really think I can continue my relationship with you outside of Paradise."
Though she was silent during Aaron's speech, Genevieve later returned to tell him that he was "trying to rewrite everything and make it seem like [he] did nothing wrong." They didn't gain much clarity during their final conversation, though, and don't seem to end on great terms. But has that changed since filming wrapped this summer?
Recently, both Genevieve and Aaron have been vocal about their Paradise ups and downs on Twitter. Aaron, for his part, said that "Reality tv is not actual reality," while Genevieve hasn't minded poking fun at her frequent arguments with Aaron — like, for example, his insistence that itching is a low-level type of pain.
Genevieve also clarified her latest fight with Aaron, the week before they both left Paradise — shutting down speculation that she her attempting to leave after their argument was "all a plan."
She addressed an earlier fight, too, wondering if it was "too much to ask" for some alone time with Aaron — the question that preceded the fight where Aaron claimed she was "gaslighting."
According to Reality Steve (spoilers ahead!), Genevieve and Aaron were reportedly "amicable" during the Bachelor in Paradise reunion.
This article was originally published on