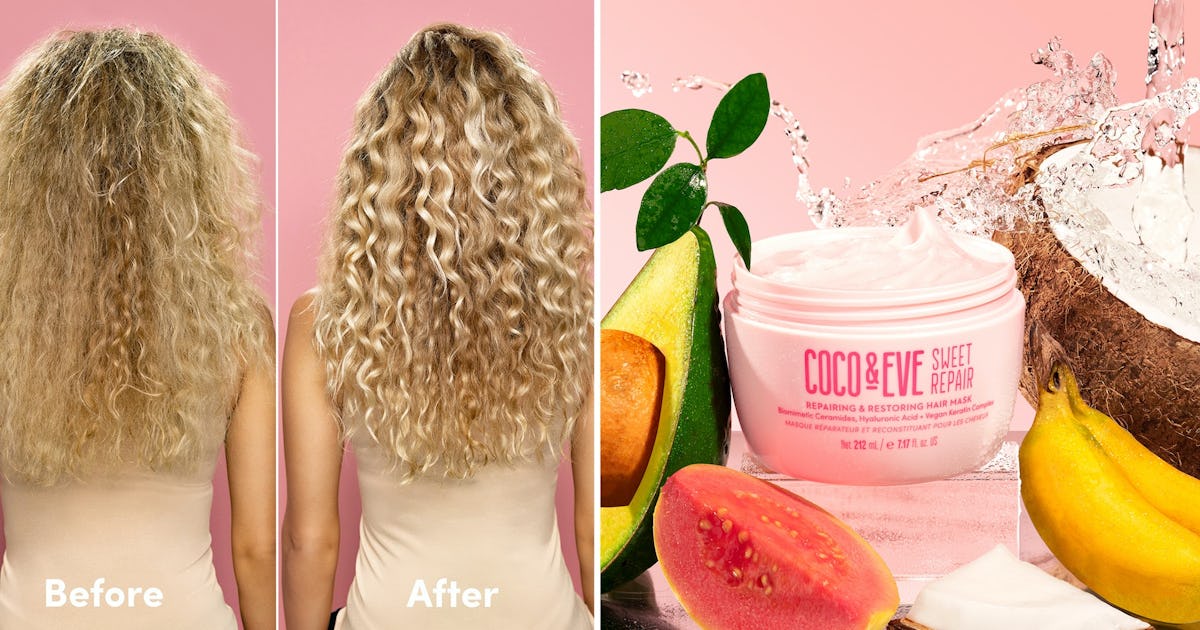 Looking for something that will deliver a surge of moisture to your thirsty locks? Coco & Eve's brand-new Sweet Repair Hair Mask might be just the thing your routine needs. With ingredients like ceramides, hyaluronic acid, and vegan keratin, this mask aims to repair and restore hair that's been affected by heat, colour, and chemical treatments in as little as five minutes.
Fast Facts
Price: £30.90
Size: 7.17 ounces
Best For: Dry hair or hair that has been chemically damaged
Cruelty-Free?: Yes
Free Of: Sulfates, Silicones, Parabens, Gluten
Coco & Eve is an Aussie-founded brand that uses the tropical paradise of Bali as its inspiration. Indonesia, which is home to Bali, is the world's largest coconut producer, and the team at Coco & Eve pays homage to the island by including raw virgin coconut, sourced from Bali, in most of its formulations. Coco & Eve prides itself on sourcing the best possible ingredients while always avoiding potential irritants like sulfates, phthalates, and parabens.
The Science Behind Coco & Eve's Sweet Repair Hair Mask
So, how does Coco & Eve's Sweet Repair Hair Mask work wonders on damaged hair? The treatment contains ceramides, which, according to a 2022 study, bind to damaged hair to help strengthen each strand. Hair damage, more often than not, leads to dryness, which is why Coco & Eve decided to throw some hyaluronic acid into this formula, as well. Hyaluronic acid helps to repair the moisture barrier in the hair shaft, which, in turn, can help promote smoother, shinier hair.
But, that's not all: The Sweet Repair Hair Mask also contains a vegan keratin complex, which is a plant-based chain of amino acids that are meant to replicate keratin. As a refresher, keratin is a protein (from which are hair and skin are made), and our hair can become deficient in keratin after experiencing damage from things like bleach, chemical treatments, and hot tools. Keratin deficiency can lead to hair that feels weak or limp, so this formula's keratin complex helps to build hair back to its strong, bounciest, shiniest state.
And finally, this wouldn't be a Coco & Eve product without a solid tip-of-the-hat to some iconic Balinese fruits. The Sweet Repair Hair Mask contains banana, which some people use as an ingredient in their DIY curl masks; rambutan to protect hair from damaging pollutants; avocado, which Jessica Alba loves to use on her hair; guava, a vitamin C-rich ingredient that can help prevent brittleness; and, of course, raw virgin coconut, a botanical that's known for its countless skin and hair care benefits.
How To Use The Sweet Repair Hair Mask
For those who are new to at-home hair masks (or could simply use a refresher), here's how to use this treatment. First, you'll want to cleanse your hair with your shampoo of choice (or if you're in the market for a new shampoo, you could try out Coco & Eve's popular Super Hydrating Shampoo.) After that, scoop a liberal amount of the mask into your hands — those with hair that's on the finer side will want to use a smaller amount of product, while those with thick, curly, or very damaged hair can be more generous. Then, section your hair, and apply the Sweet Repair Hair Mask from the middle to the ends of your hair, avoiding the roots. After you're done, leave the mask in for five to 10 minutes before washing it out completely. Since I have wavy hair that borders on curly, I like to use a de-tangling comb in the shower while my hair is coated with a mask. This extra step allows me to get rid of any knots while the ingredients soak into my hair.
According to the brand, dry and damaged hair types can use this mask up to three times a week, while those with fine or oily hair should stick with once a week. Keep in mind, when using this mask after shampooing, there's no need for conditioner.
The Results
Curious to hear what your fellow shoppers are saying about this mask? Here are some reviews:
"First time Coco & Eve customer and I'm obsessed! I have bleach damage + naturally curly hair and just one use of this hair mask has my hair looking shiny, split end free and my curls are gorgeous and bouncy! The mask also smells incredible. Do yourself a favour and get some <3" —Michelle P.
"I have bleached hair which was starting to suffer. I used this once – left on overnight wrapped in a towel… then rinsed it off in the morning – the results were amazing, after just one use my hair felt brilliant and was amazingly shiney. The smell is lovely too! I would recommend to anyone who's hair needs a helping hand." —Sarah F.
"First off, I want to say that this hair mask smells stunning! So much so that my cat sniffed my hair and nuzzled it amazing. But the critical star to this product is how moisturizing it is and how it allows your hair to retain that moisture. Even with my uber, super dry hair. Never before has my hair been allowed to maintain the moisturization I put in it for more than a second. With Sweet Repair, my hair retained its proper moisture balance for THREE DAYS! That aside, my hair was also pleasantly soft and supple. My battered, damaged hair did not look nearly as bad as it once did." —Janis B.
Shop Coco & Eve's New Sweet Repair Hair Mask